This is that time of the year, when the Leeds and Reading Festival takes place. These are two of the largest music festivals in the UK, and take place simultaneous over Friday to Sunday. There are usually the same acts appearing at both sites over the
three days. I was going to link to festival, but know of old that these links often simply disappear, so I'm going to make do with a couple of images. We live quite close to the site, so we get all the traffic and noise issues. Happily,
the organisers seem to have got the traffic problems under control this year, as there has not (yet) been a repeat of the 5 hour tail-backs on some of the approach roads. The noise? Well it all depend on the wind direction. If the wind is in a certain direction, we do get the continuous hum from the motorway so when  that happens we do get some of the festival noise, but it's not been loud enough to notice.
I have been before, back in 2011. The Parish Council of Bramham and Thorner are allocated a number of free 'Guest' tickets.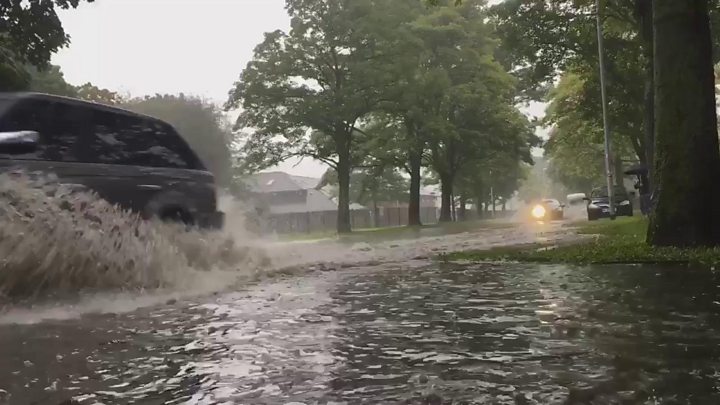 These 'sweetener tickets' are then sold to genuine residents at an extremely discounted rate, with the funds going to local projects. Every year since 2011, I've thought about going again, but at the last minute, I back down. I don't think K*** would enjoy it and I wouldn't want to go on my own. But who knows how I will feel next year? I have to admit, even though the weather was bad that year with some rain on each of the 3 days, it is quite an experience. The weather has been sort of kind this year, except for the 23rd this month, when we experienced 3 weeks rain in one hour! Now that was a wet day!
===============
I've come to a decision! Crochet is not my thing and I'm dumping my hooks (except a 3.5mm and 6mm). I can knit. I do knit. I will have a go at any knitting pattern or stitch that you care to through at me, but I totally fail at crochet. I just cannot get my head/hands around it. I've watched all the tutorials and even had a 'one-to-one' with a work colleague and I still cannot do it. It looks like the old 'Granny knots' we used to do when I was a kid. So I'm calling it a day. I'll keep the two hooks I mention, as they can be very useful to pick up dropped stitches and the like, but the rest …gone!